Map
From Eco - English Wiki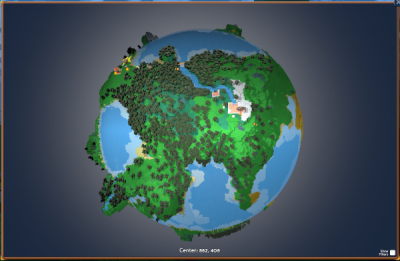 Press M to open a Map of the World. Layers showing population, pollution, and environmental data can be viewed in the Map window.
Clicking and dragging on the minimap will rotate it.
The dropdown menus on the right side of the screen contain options for showing what displays on the minimap, selecting world layer heatmaps, and editing and placing world markers.
Selecting the checkbox next to a world layer will highlight the map with a heatmap that shows the layer's levels across the map. This scale can indicate species density or capacity, or other statistics such as world rainfall or player activity.
After selecting a world layer in the drop-down menu, you can click the Show In World checkbox to see that layer on the ground in regular view.
List of World Layers
None - No layer is applied
AirPollutionSpread
AmanitaMushroom
Beans
Beets
Birch
Bison
BisonCapacity
Bullrush
Bunchgrass
Buttonbush
Camas
CanopySpace
Cedar
Clam
CommonGrass
Corn
CreosoteBush
CriminiMushroom
Debris
DesertBiome
Districts
Elk
ElkCapacity
Fern
FertileGround
Fir
Fireweed
ForestBiome
Fox
FoxCapacity
FreshWater
GrasslandBiome
GroundPolutionSpread
Hare
HareCapacity
Height
Huckleberry
Kelp
Nitrogen
Oak
OccupiedCanopySpace
OccupiedFertileGround
OccupiedShrubSpace
OccupiedUnderwaterFertileGround
Oil
Otter
OtterCapacity
Phosphorus
PitcherPlant
PlayerActivity
Potassium
PricklyPear
Rainfall
Rice
Sagebrush
SaguaroCactus
Salal
Salmon
SalmonCapacity
SaltWater
SaltWaterSpread
ShrubPlantGroup
ShrubSpace
SoilMoisture
Temperature
Terrain
Tomatoes
Tortoise
TortoiseCapacity
TrampledSpread
TrampledSum
TreePlantGroup
Trout
TroutCapacity
Tuna
TunaCapacity
TundraBiome
Turkey
TurkeyCapacity
UnderwaterFertileGround
Urchin
Waterweed
WetlandBiome
Wheat
Wolf
WolfCapacity
AmanitaMushroomYieldPotential
BeansYieldPotential
BeetsYieldPotential
BirchYieldPotential
BullrushYieldPotential
BunchgrassYieldPotential
ButtonbushYieldPotential
CamasYieldPotential
CedarYieldPotential
ClamYieldPotential
CommonGrassYieldPotential
CornYieldPotential
CreosoteBushYieldPotential
CriminiMushroomYieldPotential
FernYieldPotential
FireweedYieldPotential
FirYieldPotential
HuckleberryYieldPotential
KelpYieldPotential
OakYieldPotential
PitcherPlantYieldPotential
PricklyPearYieldPotential
RiceYieldPotential
SagebrushYieldPotential
SaguaroCactusYieldPotential
SalalYieldPotential
TomatoesYieldPotential
UrchinYieldPotential
WaterweedYieldPotential
WheatYieldPotential
Checking any of the following checkboxes will toggle the view of the related object(s) on the map.
Follow Player - Rotating the map as the player moves
Show Property - All properties that have been claimed
Players - All players
Trees - All trees
Lights - All lights
Crafting - Any objects related to crafting
Storage - Any objects related to storage
Cooking - Any objects related to cooking
Economy - Any objects related to economy
Research - Any objects related to research
Misc - Any other objects that do not fit in a specific category
Housing - All housing structures
Power - Any objects related to power
and more...